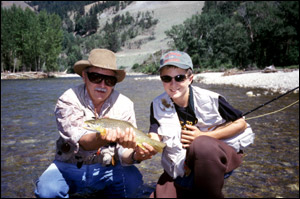 From our client logs: "...highly trained, professional...never obtrusive, always attentive..." "...we learned so much that day..." "...beautiful area. We feel that we made new friends. We'll be back."
A MESSAGE FROM CHUCK
Time was, if you hired a western flyfishing guide, For the past couple of decades Tony Reinhardt built that sort of reputation for himself as a guide. He brings that same set of values his position as our shop outfitter. Our "old" guide crew of Chris Rockhold, Alex Hibala, Chad Williams, and Bob Prince is now joined by Tony's crew, and our offerings now include trips on the Blackfoot, Rock Creek, and the area's hidden treasures - our small streams.
Our guides will be respectful to you, to others you meet along the river, and to the river itself. Simply put, they offer the highest level of service available in the Bitterroot and Missoula area, and rank with the best available anywhere.
They are equally at home teaching a beginner the basics, or sharing their secrets with veteran anglers and putting them onto fish. And, they have fun doing all of it.
They enjoy the people they serve, and will go the extra mile for you. They will send you home with lasting memories, and the desire to fish with them again.
Our clients become our friends. They return to fish with us, season after season. We invite you to join them.

Rivers
Bitterroot
Blackfoot
Clark Fork
Missouri
Rock Creek (wade fishing, upper section)
Small streams (wade fishing, visit some of our secret spots)
*other waters available; please inquire
[ click here to RESERVE YOUR GUIDED TRIP ]
2011 GUIDE SERVICE RATES
Full Day Trip - Float or Wade - $475 (For one or two anglers)
Trips include:
All flies and tippets
A Full Shore Lunch
Non-alcoholic Refreshments
Transportation to and from the river
A full day is typically 8-10 hours on the water
Short Day Trip - Float or wade - $425 (For one or two anglers - seasonal rates may apply)
Trips include:
All flies and tippets
Snacks
Non-alcoholic Refreshments
Transportation to and from the river
A short day is typically 5-6 hours on the water
A short day is designed for clients who have time restrictions or during periods when a full day is not practical.
Deposit / Cancellation Policy
Your reservation is secured by a 50% deposit, balance due at trip time. Deposits are refundable if cancelled more than 30 days from trip time.
We strive to provide the best possible fishing experience each and every day, and understand that we are subject to the whims of nature and the weather. During each season there are periods of high water and low water, and inclement weather. We adjust meet times, choose the best rivers and stretches, and come properly equipped to address these challenges.
Our guides expect to fish every day of the season and your trip deposit serves to acknowledge these conditions. Cancellations within 14 days of trip time will be billed for the entire amount, unless the guide is able to rebook the cancelled time.
[ click here to LEARN MORE ABOUT THE RIVER, HATCHES, BEST TIMES ]
INSTRUCTION
Chuck is a Fly Fishing Federation Certified Fly Casting Instructor and presents seminars and demonstrations at sportsmen's shows, FFF Conclaves, and flyfishing clubs. He teaches flyfishing and fly tying through local adult education programs in the Bitterroot Valley, and was a certified Marine Sciences college instructor in California, teaching flyfishing at the community college level.
He left a career in education to pursue full-time flyfishing. Beyond his unique background and professional training, he enjoys teaching. He is a natural teacher whose students enjoy learning from him, and come back for more.
Each session is individually planned. Topics can include introductory, intermediate, or advanced flyfishing, fly casting, specialty topics (see club and seminar topics listed on About Chuck page). Loaner rods and reels, take-home materials, other items as neccessary are included.
Please contact Chuck to inquire or to pre-plan your session. On-the-water instruction is available in conjunction with our licensed guides.
Instruction, full day, per person (min. two)

$165

"After Hours" Clinic, individually planned 90 minute sessions

$65
RESERVE YOUR GUIDED TRIP - BOOKING INFORMATION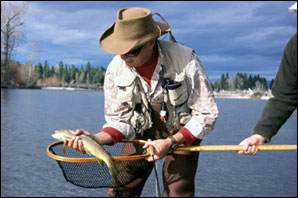 We want to make it easy for you to visit us. To get started, fill out our form below. Please ask questions. We plan each trip individually. Make your needs known and we'll do our best to meet them.
RESERVATION: Your reservation is secured upon our receipt and acceptance of a 50% deposit, balance due at trip time.
INCLUDES: Guide's equipment and service, transportation from our shop or designated meeting point, lunch on full day trips, snacks and non-alcoholic beverages.
Anglers provide Montana state fishing licenses, flies and tackle and personal gear. Loaner outfits are available.
TO BOOK A TRIP WITH US, START HERE
Thanks! We appreciate hearing from you. We will get back to you shortly.

Chuck Stranahan's Flies & Guides